Bringing forward superb customer experience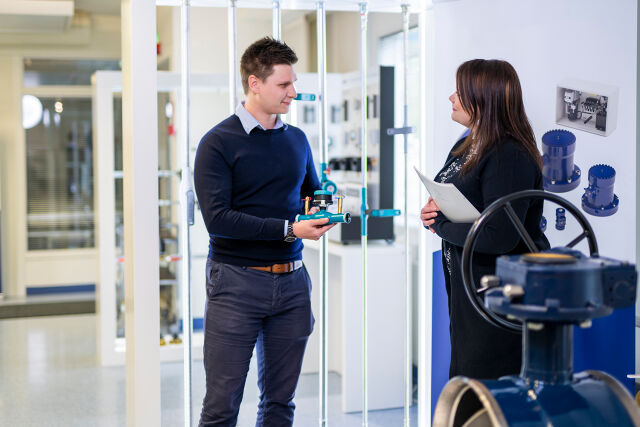 For the first time, Vexve Armatury Group has completed a simultaneous customer satisfaction survey for all our segments. According to the results, our biggest strengths are the quality of the products, expertise and reliability as a partner.
The survey was sent to our customers via email in March 2023 and our independent partner delivered us the results. The answers clearly show our strengths and help us to further develop our bond with the customers. Let's have a look at the key findings and how they reflect the values and goals we constantly keep in mind.
NPS score tells about high customer satisfaction
Net Promoter Score (reported from range -100 to 100) tells how likely the customers would recommend our services to others. It's defined that NPS score above 0 is good, above 30 is great and above 70 is excellent. Our group-level NPS score is an impressive 61, showing we are a great partner to do business with. A whopping respondent majority of 66 % said they would recommend us to a friend or colleague without any hesitation.
Since the results are this good, what exactly are our customers most pleased with? As a group, we aim to be known for our superior product quality, fast delivery times combined with first-class customer service. Let's check out how we have succeeded in these aspects according to the survey results.
Excellent feedback in all fields
The general tone of the open customer feedback was strongly positive. Vexve Armatury Group customers applauded us in three specific areas: product quality, expertise and reliability as a partner. Trained, competent personnel is a key element when bringing forward the company values and vision of being the leading European valve manufacturer in the transition to a low-carbon future. Vexve Armatury Group clearly produces tailored, top-notch quality products, making our valves win in the market.
Our expertise is the most successful aspect mentioned in the survey. We are generally seen as a service-minded, available group that handles the customers skilfully and communicates well. This supports our goal to have both industry-leading operations and a team thriving to serve efficiently and with the best delivery times.
Vexve Armatury Group's CEO Jussi Vanhanen is happy to see how well we did in the survey. "It is very encouraging to see that our customers are generally very pleased with our performance. An NPS score of 61 is getting close to world-class, and we are considered a reliable expert in our field."
We are proud to be applauded by our customers since their needs are the most important aspect when still improving our already competent, high-quality products and services. Let's keep up the great work while building a greener future together!